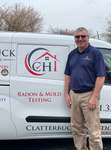 Brad
Home Inspector
Brad grew up in a small town where he used to run after fire trucks with his friends. There came the dream of being a firefighter. He started volunteering as soon as he could and did so for 5 years. After that, he got hired as a fireman and worked at the fire department for 33 years. Brad and Clatterbuck Home Inspections founder Greg Clatterbuck worked together in the fire department. He liked working at the fire department because it provided him with something different every day. He sees a lot of similarities between his time as a firefighter and as a home inspector. One of them being the process. As a firefighter and a home inspector, he started all his "discoveries" from the right of the house or building and worked his way around. 
His favorite part about being a home inspector is meeting homeowners and realtors. He loves repeat customers with whom he is able to build a connection. He also enjoys having a process to follow as he inspects a home. He always starts from the top of the house and works his way down. He likes communicating to people what his findings are and prides himself on being able to give a third-party opinion. 
The home inspection industry gave him away to spend time outside while learning new skills. He also enjoys working alongside his coworkers from the fire department and going for lunch or dinner after a big team inspection.