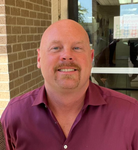 Greg Clatterbuck
Founder and CEO
Greg is the founder of Clatterbuck Home Inspections. He began his journey receiving a physics degree from Longwood University. Greg always knew he wanted to do something that would allow him to be active, so choosing his major wasn't a big deal to him. 
After finishing college, Greg worked as residential structural designer at a Roofing and Flooring Trust Company. Having this be his first job gave him a lot of structural background on how houses are built, which would later help him become the exceptional inspector he is. 
After his first job, Greg went to work for a local inspector in the area but didn't feel fulfilled.  He had always volunteered for the fire department, so he became a full-time firefighter. He came to this decision after understanding that he did not want to sit behind a desk for the rest of his life.  Greg has been a career firefighter/paramedic for 20 years.  Being on 24 hour shifts at the fire department allowed Greg the time to open his own business. He had knowledge about physics and home structure from his early adulthood which allowed him to become an expert home inspector. In the fire department, Greg learned how to act under pressure and develop people skills. All of which would prove to be a game-changer.  After opening his business, Greg quickly built a customer base. So much so that he had to hire 3 other inspectors, retired and active firefighters. Firefighters make great home inspectors as they are punctual, professional, attentive to detail, disciplined, and they are great communicators.