Selling a home can be an emotional process for both buyers and sellers. When the time to sell comes, several factors should be considered. To get the best price, you should consider many things that might not seem relevant on the surface. The monetary value counts the most when it comes to selling your home, and everyone wants the best results. It would be ideal for you if you never let go of an opportunity to renovate your home to get the best price before selling. Things such as adding in flooring or finishing basements before the sale will seem like an unnecessary expense right before selling your home, but it will add to your home's value and come back triple-fold. 
Sellers are always looking for things to improve in their homes when obtaining a profit for their homes. There is anxiety involved in selling your home because you will have to put all of your time, money, and emotions into possibly not being able to get the best deal on your home. For example, homes above a certain age may sit on the market. Given these complexities, finding innovative perspectives and advice is important before making a decision that could otherwise yield less than desirable profits. This article will give you all the information you need to prepare for a Virginia home inspection, its benefits, costs, etc.
Virginia Home Inspection And What Good Can It Do?
Having a sale can sure be nerve-racking, but it's not impossible. First, consider a home inspection to get the best price on your home. When it comes to home inspection services, VA home inspectors are experts in their field that usually offer their best suggestions to buyers and sellers.
To most buyers, it will be necessary to work hand-in-hand with a home inspector in VA who does in-depth home inspections and helps buyers negotiate a home's price. Depending on the purchase price, the buyer may mostly want to organize a VA home inspection at their own expense. For some buyers, it isn't so much about locating an issue that might ruin a deal as much as it is trying to figure out if everything else is acceptable or not. Some might only see an inspection as preparing for failure.
Avoid losing a prospective buyer with a good offer for your home and have a seller's inspection done. A Home inspection provides cost-effective and quality reports of homes that a buyer can take advantage of. To avert suspicion about a residential property's condition, if a seller has his inspection done, the buyer might not want to have another one in the first place. A seller's home inspection builds a buyer's confidence and yours.
How Long Does A VA Home Inspection Take And How Much Does it Cost?
Have you decided to get a home inspection done before selling your home? That's a great idea since an inspection will give you a picture of what areas may need to be addressed before you fix a price. One thing to consider when requesting a VA inspection is the time it will take and what it will cost.
The length of time for Virginia Home inspections will depend on the size and type of project, but with that said, expect 1-4 hours based on your home's size, condition, and location. Inspections for additions or structural changes can sometimes take longer, so do not plan your work schedule around this process if you want to be around during your home inspection. 
Coming to the cost of an inspection, it again depends on the size and condition, additional inspections that may require gadgets and high-grade equipment may cost you more. You may pay anywhere from $300 to $450 for a standard Virginia home inspection. This can go up and isn't a fixed price for every home inspection company. 
Are Home Inspections Necessary For Loans In Virginia?
A lender may not ask for a home inspection, but he does require an appraisal. So whether you are a buyer or seller, a home inspection is for your benefit. Inspections are about looking for conditions that may or may not be within the scope of damage tolerance.
What Is Included In A Virginia Home Inspection Checklist?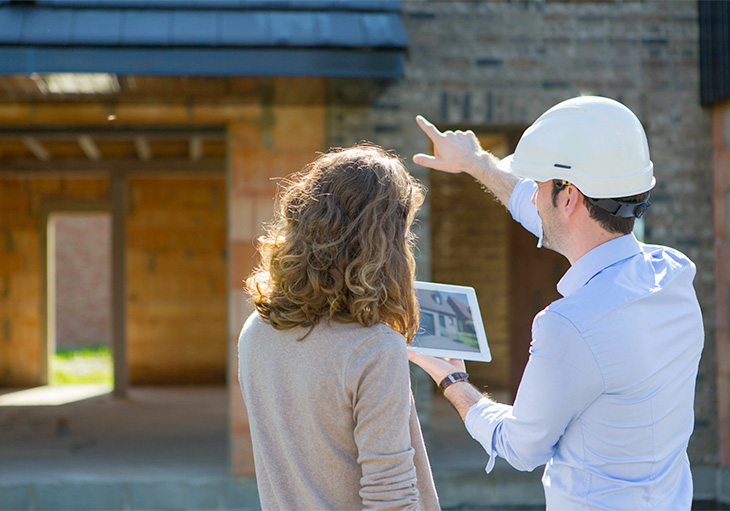 A Virginia home inspection checklist is a tool for home inspectors not to miss anything during a home inspection. A home inspection checklist should ideally include all the items indicated in the document's name, such as identifying problem items, potential hazards, or conditions that can further deteriorate and bring up safety issues in a home. All the findings are documented as subjective observations by professional inspectors during and after the investigation. These findings are then delivered at the earliest to the inspection party. 
A Virginia State Home Inspection Checklist Can Have Items Of Varying Degrees
Exterior Items:
Roof

Windows

Doors

Grading

Car-ports

Sheds/pergolas

Exterior wall coverings

Driveways

Grading

Sewer
Interior items:
Floors

Ceilings

Walls

Windows/doors

Structure

Basements

Crawl Spaces/attics

Foundation

Electrical

Plumbing
The general intent of assessing a home is to seek answers to questions such as "Is this home suitable for me and or do I have the functioning components working well for me to live comfortably?" However, some people may take the assessment process further to investigate something like, "How likely is it that your house has Radon gas in it, or will plumbing lines pose a problem in winter?"
This overall assessment considers factors related to homes even when these issues are often not imperative to address immediately. Still, again, home inspectors or homeowners may want a house analyzed further. A home inspector's overall assessment of a household's great value can lead to homeowners or buyers taking other necessary actions. 
Ideal VA Home Inspection Qualities
Other than certifications and qualifications, you should look for attentiveness, understanding, and convenience when looking for home inspection service professionals in your area. 
Clatterbuck Inspections is becoming one of the go-to companies for competitively priced, high-quality home inspection services. Homeowners, buyers, and sellers requiring their properties to be inspected should take advantage of their services. There are certain qualities that a person wanting an inspection should look for in a home inspection company to help guarantee a quality experience for their clients. These include High-quality inspection equipment and tools, updated technology like smartphone and tablet-based reporting programs, and most importantly, open communication between the homeowner/seller and the inspector.
VA Home inspection companies use their unique skills to stay ahead of their respective competitors in the market. Their job and essential responsibilities are based on these qualities such as:
Trustworthiness; a company is inherent to offer a trustworthy service as it enables customers to rely on them in emergencies and gain complete trust from everybody.
Efficiency; employees must make efficient U-turn appointments which ultimately reflects efficiency in performing this task for customers.
Reliable 24/7 Solutions; reliable 24/7 solution offering skills are vital because it spreads peace of mind among clients with the knowledge that they can rely on an inspection company when they need urgent service.